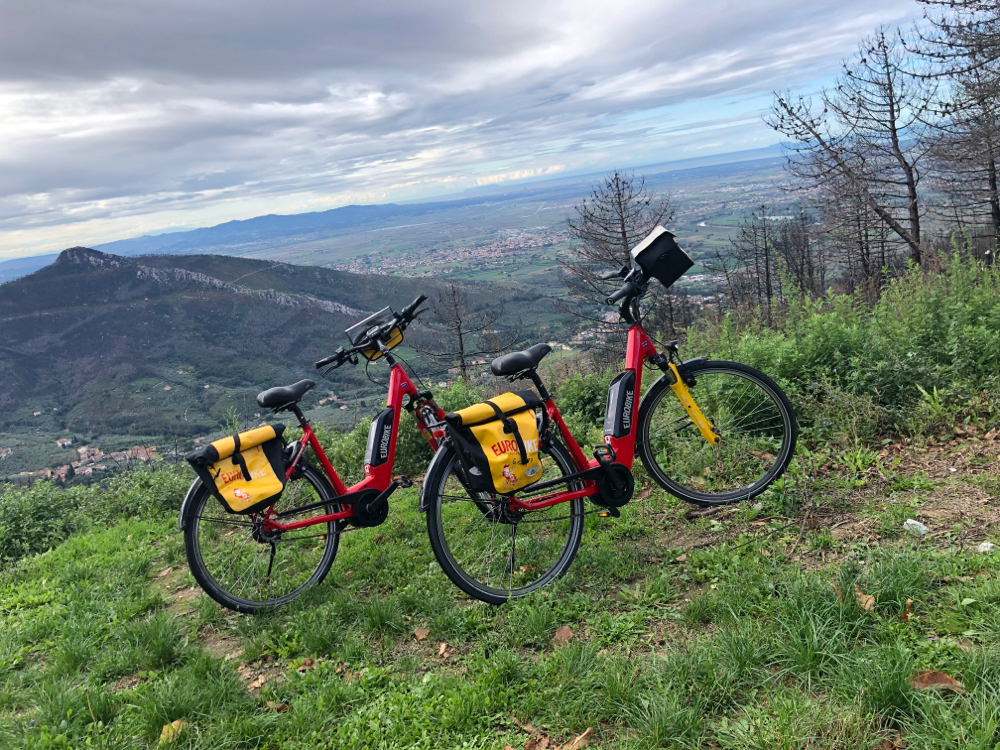 Wow - looks like this is the last post in 2020 - with about 50%+ less travel than in 2019 - but considering the situation we're currently in arount the world, I am very happy and grateful to write about a fantastic and very enjoyable week in Tuscany, Italy in Mid of October.
I have to admit, the booking happened pretty last mintue. Re-scheduled the flight from April to October with destination Sardegna, we were still not sure two weeks before the planned flight if it makes sense to go there. As the travel restriction was given then to have to stay in quarantine for 10 days after your return, we decided against it. But where could we go instead? As I've recently bought an e-Bike I fell absolutely in love with, I was looking if I could find something where we could actively bike around and where it is no need to fly in this unpredictable time we're in. Luckily, I found  Eurotrek -  a company specialized in active holidays like hiking and biking and after some emails with the travel agent it was clear that we we will go to Tuscany and rent some ebikes to discover the region by bike. Considering the Covid situation we decided to go for the tour operated by Eurobike, an Austrian Company where the base is always the same hotel. 
Normally, the tours are scheduled for arriving on Saturdays and starting the tour on Sunday then. As this was not possible for us, the agency made an exception and credited the first day. We left on Saturday Evening and decided for a stop over around Como, to not drive the entire +/- 7 hours by night. The hotel cruise - outside of Como was a cool experience as it showed really what Covid19 - Security Measures mean: You check-in like on a drive-in to the garage, park your car and by the elevator you achieve directly the hotel. The breakfast is prepared already in a lunch box. No contact at all with other people. 
On Sunday Morning we continued our way to Montecatini Terme where our hotel was located and the base for the upcoming tours. It was slightly raining when we arrived and I was not too unhappy that we weren't on the bike already :-). Montecatini is - and was famous for its thermal treatment, especially -as we heard around the 70ties and 80ties. And for the cycle fans - the Giro d'Italia used to pass Montecatini as well and was hosting all the bicycle cracks. As the weather was not too good, we planned to go somewhere to these thermal sources for a relaxing bath. We have seen that the hotel was equipped with an indoor pool as well - but due to Covid closed. The public baths were not open either on Sundays. This was very surprising to me, I imagined that we could go at least to a public bath like I experienced it in Budapest for example. But we learned that these baths are meant for treatments you have to book in advance or if the doctor is sending you to go there. 
A pity - comparing to Tyrol and Southtyrol it looks like the city doesn't move with the time and stays with the memories to the good old days. The potential would be huge to invest there and focusing more on active guests which spa desires as well.
Anyways, after we understood that there is probably no chance to get a thermal bath in this week, we went for a delicious lunch and took after - as the weather was getting better again to Montecatini Alto by taking the oldest funicular running in Italy up and enjoying a lovely sunset before heading to dinner.
Restaurants to recommend in Montecatini Terme
There are probably more, many were closed already - but food was never a disappointment :-)
On the next day we got picked up and the tour "guide". As we booked an unguided tour, he was responsible for our transfers. If there was one by car he drove us to the starting point - like on this day to Monte Pisani where we got a fabulous view over Pisa and the sea - and this was our target destination today: Riding down the hill - checking out Pisa - driving into direction Viareggio and Beach - overall about 50 km to drive.
It was a very enjoyable first day with different landscapes, checking out Pisa I haven't been before, doing the classic tourist picture with the tower and making jokes of others :-) and going then to Viareggio and to the beach. I have never imagined that I would spend my first time at the beach of this year by mid October. Too cold (at least for me) for a swim, the time on the beach was what I needed and I tried to soak up the sea breeze and the sun as much as possible - who knows how long this has to last this time?
Arrived in Viareggio we enjoyed a lovely dinner where we got welcomed super friendly in the restaurant La Posteria before we got back by train to Montecatini. Some words about the train and trainstations in Italy: I didn't experienced those as very (e)bike-friendly. Luckily there were not many people on the train and it might be easier with a regular bike. Sometimes it was hard to carry them to the rail and in-and out of the train. But we managed it somehow :-)
After we managed to read the timetable of the italian trains with all its delays correctly, we took the train to Firenze - it was a no-bycicle day. As Florence was one of my first destinations during my sabbatical leave in 2018, we didn't have a lot of plans what we would like to see or to do. But we got a recommendation from our tourguide about food. And for those who know me, it is something I could not miss :-)
Have you heard about https://www.allanticovinaio.com/? It is actually THE Tuscanese Streetfood and they are incredibly successful that they even opened a spot in New York! You get there kind of filled focaccia's. In one street they have 3 spots and security is checking that you keep the distance while queuing. I have to say we were lucky, we only waited about 10-15 minutes, but after we got it, the queues were much longer already. 
And what can I say about it? It was super super super delicious but it kind of killed me as it was massive too. If I ever make it again, it might be worth to share one :-)
So we decided to walk around and burn hopefully some of the calories we've just taken by heading up to the Piazzale Michaelangelo - we've been there in 2018 for sunset and it was not comparable in regards of people. The good thing when traveling during Covid - there are less people and everything is more relaxed, although wearing a mask outside can be exhausting too from times to times. As the Aperol Spritz didn't help either to digest the killerfood, we continued walking around, passed the Ponte Vecchio without any further plans. The good thing on Florence is that you can walk around without any idea and discover every now and then new alleys and beautiful places. Oh and the traffic signs - I just love them! Once you discover one, you are looking out all the time for new ones :-)
To end the day in Florence, I thought might an ice cream help to digest :-) To tell the truth, this was my dinner as well as I couldn't eat anything anymore.
The day started a a day can start where you think it only could get better - to spoil - it got better! But when we got picked up to get transferred to Casciana Terme, I realized that I had a flat tire. Yay! Our guide - who is luckily a bicycle mechanic as well, fixed it by putting some magic foam into the tire. There was no plan b as there was end of the season and no other bike I could use and we had still three tours in front of us. 
Ok issue one got fixed. But second issue was outside - it was pouring down and the weather forecast promised to be a wet day. The guide felt also sorry for us and he drove one km further to only have around 54 km in front of us. Additionaly we knew that on this tour we should cross a small stream with the bikes where your feet are usually covered by the water. But as it rained already, we asked for an alternative which was another 5km longer but seemed to be the better option - plus we could see the town where Andrea Bocelli was born (La Sterzia). 
Getting out of the car and equipped with rainproof clothes, we started our tour. Not even 3 minutes later the rain stopped and the sun came out. Yay! The tour led through beautiful tuscanese landscapes, it was very enjoyable. And I was glad having some support from the engine of the ebike as the last part before lunch was constantly going up and we overtook the regular bicyclers who had to put more effort to get to the lunch place. 
We arrvied for lunch at the restarunat Antico Borgo - with a beautiful panoramic view and I was ready for a plate of penne - delicious.
But the tour didn't stop there and the weather was still unstable - we moved on into direction San Gimignano and made it almost with no rain to this beautiful ancient town where we had a stoll through and enjoyed fantastic (world champion) gelati, it was hard to make a choice with all the offering they have: https://www.gelateriadondoli.com/  - if you ever go to San Gimignano, this stop is a must!
Our tourguide picked us up for the transfer back to Montecatini where we enjoyed another delicious dinner.
This tour, with another 55 km, started directly from Montecatini Terme. We had some difficulties to get out of the city, but once we overcome those, we cycled up and down to direction Vinci. Forecast was cloudy with possible rain and we managed to escape the rain successfully.
Arrived in Vinci, we were looking for a place for lunch and found this gem: CON VINCI super super nice hosts, very small - it has about 5 tables and the food and wine was super delicious. Timing was perfect as well as it started to rain outside :-). Once we were ready to move on, the clouds were still there and so we decided to extend our stay in Vinci a bit and visited the museum of its most famous inhabitant - Leonardo. 
Even though we all know Mona Lisa, it was very impressive to see and learn where he influenced different areas - must have been a real genius. 
Rain was gone - time to move on and making our way back to Montecatini where our evening ended as usual: delicious dinner in the Foody farm and celebrated b-day boys birthday with some drinks :-)
Wohoo last tour - and I can say it was about time as legs and bum were hurting already from the other km's we did this week. 40km were on the schedule - starting from Montecatini it was easier than the day before to get out of town and first stop was after a ascending slope up to Montecarlo. A small and charming town where you have a fabulous view about the wine yards and the area - normally. Might be just a bit too cloudy to have the view but nonetheless worth a visit. On the way we missed once the Eurobike signs which are - beside a very good description - leading the way on every tour - but we realized it soon and arrived early afternoon at our final destination: Lucca! I have read before that one of the highlights is to drive ON the city mall - I had no idea but it's very cool as the mall is not that narrow as I thought :-)
We found also there a very lovely place for lunch with a good philosophy - In Pasta where I got yum Pasta with Truffle - LOVE IT! 
As we were too tired and lazy to walk around, we decided to drive through the old city with our bikes. After some difficulties finding the train station we made it on time and took the train back to Montecatini (with struggles again getting on the rail and in - and out of the train :-)
On the next day we decided to drive back home in one day and luckily there was not much traffic that we arrived later in the afternoon back home. Grazie Toscana for a fantastic week where we could almost forget the crazy time we're currently in. It is strange and I don't remember when it was the last time where I had no trip planned at all - but you can be assured, one or the other posts will follow as soon as I know. Until then - stay save and take care - Ciao!