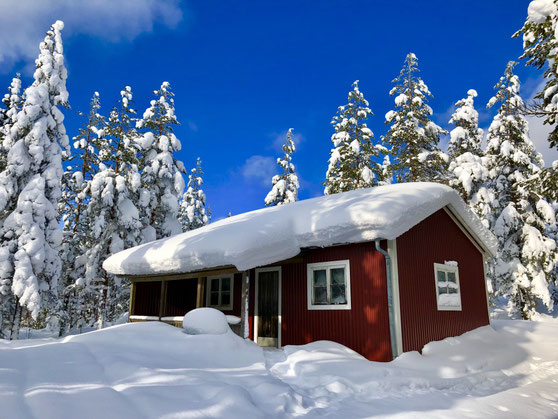 Our first adventure in 2018 abroad took us to Swedish Lapland. You may wonder why going up to the North after having winter in Switzerland since some months too? I have to admit, I am not a real winter person, not doing any fancy wintersports like skiing or snowboarding. But I thought - hey, I need to checkout something new and who knows, I might like it too as in general I do not have anything against wonderful, snowy winterlandscape.
Soo Friday has come finally where we could get some days off - Sweden was calling! The first excitement happened in the plane when I spotted the Swedish King and Queen just boarded and took their seat in their first row. I recognized King Carl-Gustav immediatley (some of you know that I have some VIP spotting skills :)) and so it happened that wen we landed in Stockholm we had to first wait aages until the stairs arrived to leave the plane but then we had to wait even longer as the VIP guests got escorted too.
By the way my research found out that they most probably didn't plan to be on this plane as they were enjoying some skiing holidays in Gstaad but their daugther Madeleine just gave birth on Friday early morning to a little girl and they wanted to be back then to define their name. Sometimes I think I should apply to a gossip magazine, I could be quite successful don't you think? :)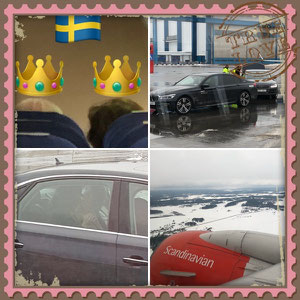 I also got nervous too as Stockholm was not our final destination, we had to change to a domestic flight and since we were delayed we didn't had that much time to change - also consider that we got transferred by bus and had to walk through the entire airport to get to another terminal. Anyways, at the end it turned out that the connection flight was exactly the same plane and same crew we had from Zurich - but why taking an easy way when there is a complicated one? :) In the air again, we landed one hour later in Umea. From there on we took the taxi for another hour who drove us to Grano, specifically to Grano Beckasin Lodge.
We arrived there later in the evening, it was getting dark already and everywhere where you looked you could see snow, snow and snow :) Really beautiful. 
When having dinner it turned out that my wish came true as I wanted to have some Elk (moose) for dinner and this is exactly what we got. It was very yum and exhausted from the long travel day we had an early night, exciting to see what we will discover tomorrow.
The lodge: The area is a camping place in summer and a spot for doing some typical nordic activities in winter. It is a very small village, not many houses, not many people, not many animals and very quiet - exactly what we needed for some relaxing days off.
They do have also some so-called "birdsnest" accommodation where we also moved after two nights in the eco hotel which is just some minutes in walking distance away.
We have booked the entire trip including flight through travelbird.ch - which was very easy, all worked out well and you can book in advance any activities already. I can imagine to book somewhen for any other adventures there again.
On Saturday we got a guided snow shoe tour - it was the first time for me beeing on snow shoes. Wondering if I would like it as I got some for Christmas from my Daddy, just didn't manage to try them out before - but Daddy, in case you read this, we can definitively plan a tour in Switzerland too :).
Vila, our guide from the lodge welcomed us and together with another couple from Germany we started walking though the winterwonderland through the forest, we tried out how to walk in the deep, deep snow, had a stop on a look out point to the village with some lovely cake and then headed down to another lovely area of the forest - they call it the "troll village" as everything seems so tiny and rumours have it that trolls live there :).
I absolutely loved it to walk in this winterlandscape - altough it was very cold, as long as you're moving and have the right clothes, you won't freeze.
In the afternoon we had a stroll through the village and just enjoyed not doing more than relaxing and reading.
On Sunday we didn't have anything on our agenda but we have seen that the weatherforecast was supposed to be the best of all the days we were here. Don't get me wrong the weather was good, most of the time snowing but if you can choose between grey and blue sky, I go for blue! :) So we asked Vila if he has any recommendation which activities you could do as you can try out old-school-swedish-skies (more used for cross-country not for skiing), riding a snowbike or going on a husky-sledge tour but we have been booked for this in Monday. 
So Vila got us a nice insider tip for a snow shoe walk / hike (not guided) to the "househill" of Granö, the Tällbergstugan. Equipped only with an oldschool map and our snowshoes from the lodge, we started fully motivated as the sun was shining and loots of snow and wonderful landscapes.
At the start we met 1 elderly man, as everyone he started to talk in Swedish to me but as our conversation was limited in terms of my Swedish Skills and his English, we moved on and from there on we haven't seen, as usual, any people anymore.  We have neither seen any animals as it was just too cold for them to show up. So we kept on walking and I can't describe the landscape. It was just wow, like in a fairytale and the snow feels like pure powder. After around two hours we reached the top of the hill - a red house where we had some snacks before moving down again where some yummi chocolate cake awaited us :).
In the evening we had another program point on our agenda. I guess everyone going to the nordics or scandinavia has the wish to see any Northern or so called polar lights (Aurora Bolearis) - and so did we. As the weather was clear and the forecast good for the night too, we got welcomed at 8.30 pm by our guide and photographer (check out akvafjell.com) for heading, within a 10 minutes walk to an outlook point, where the chance was given to see any lights. I have to say I got amazed by the clear sky and the millions of stars who surrounded us already but curious what we could see in addition.
It is very hard to predict to see a Northern light, as some conditions have to be given like clear sky, no clouds, no shiny moon and then the so called KP activity has to be pretty high. To be honest, I haven't seen a lot of it :) just a very very light green haze and when leaving at 10 pm, I got very very cold, I think I know now how it feels for food getting put into the freezer. I was still happy with what I have seen as i loved the stars shining and we were standing in the snow, drinking some tea and eating some cookies before moving into our birdsnext for the next two nights.
The real surprise took us then the next day when I emailed our guide for sending the snapshot he has done. He replied then that he had the feeling that this couldn't be it of this evening and he returned again to the platform after we said goodbye. And there it happened. He could see the polar light cristal clear, altough for some minutes only, and the camera captured this great moment. Altough I haven't seen it by myself, I am very happy to got this great shot afterwards too.
Another highlight was awaiting us on Monday. Snowing all day, we were excited to get in the afternoon to the Husky place where we got a guided sledge tour with the dogs. We got welcomed very nicely and had some first instructions how to steer the sledge, what to do to stop the dogs and how to continue then again. 
We decided that Beat is the driver first and I was sitting on the sledge. but this also meant that I had to first care for the dogs to make sure they keep quiet before they start. 
This was pretty fun as soon one or the other dog started to yowl, all others started to and you couldn't even have a conversation anymore :) She explained that this is how they show excitement and can't wait to run. In total they have 28 dogs, 14 female, 14 male so you can imagine how loud it was. As I had to take care of the leading dogs, I was not able to record the dogs concert - you just have to experience by yourself and then you will know what I mean :).
In total we were 3 sledges and on each sledge we had 6 dogs. Sometimes they do it with less dogs but as it was snowing all the time, they decided to give us the full power for our track. And soon we were moving then around. I think the ride took about 1.5 hours and we managed it quite well. Beat did like his job so much as a driver that we didn't exchange :). I was the lucky one sitting on the sledge and got the nice taste of the dogs when they decided (as beeing just the dog right in front of me) to rather shit or piss during their run :) Well I can't blame them, they did a great job beside that and so we returned back and enjoyed a great last dinner before heading back to Switzerland the next day.
After this wonderful winter days with many highlights we kiss now winter goodbye and look forward to a wonderful spring season.