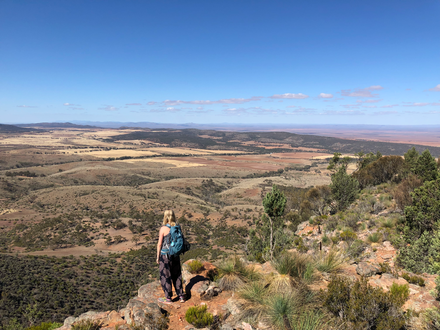 Hello Adelaide - here we are again. I have to say, 10 years back it was not my favorite city and this time, well - we got welcomed with some rain with 2.5 hours time difference to Perth (what a great idea to have time diferences of 30 minuts- NOOT). But the YHA was good again, we visited the market and had a fun dinner with Eddie the crazy Daddy who was on our tour from Perth - Broome :)
Next morning it was time for our next tour and Janner, our guide from the first tour where we discovered the secrets of Esperance welcomed us. This time, the bus was not that crowded as on the first trip. Funny enough that on the first stop in Clare we met Eddie again who was on his way to Alice Springs. First walk was at Alligator Gorge which was nice but to be honest nothing extraordinary after seeing Karijini Nationalpark.
Another stop in Quorn, where the famous Ghan railway was built - and I was looking forward already to my trainride to the centre of Australia. As we were used to some hikes from the first tour, we we were looking forward already to our first hike and there it was, we got up to Dutchmen stern. Normally it takes the group around 1 hour to get to the outlook but as we were a dynamic one, we did it in 30 minutes and decided therefore to go up to the very top - and once again, the view was breathtaking!
Our campsite was at Warren Gorge, and we were sleeping under a sky full of stars, galaxies and so many shooting stars at one time, it was truly amazing. Thanks to our guide and his tripod for the camera, we captured some of the magic in the pictures and could even sleep although some blinking animal eyes were observing us in the dark :).
But once again, we were not prepared that it still could get thaaat fresh at night and next morning when we stopped in Port Augusta for a Chai Latte (what else) we asked in the shopping mall if they have woolies. Answer: It is supposed to be summer, of course we don't have any winter clothes right now. Fair enough, at least the Chai was warming my body. Back in the bus we were driving along Kimba for a toilet stop and seeing some Silo Art, head some sandwich lunch (what else) in Wudinna before we were heading to Venus Bay to meet hungry pelicans and had a scenic walk along the coast.
Then it was time for some sandboarding in the sanddunes. It was pretty windy and without doing anything, we got pretty breaded. As I did some sandboarding 10 years back and as you probably know, I am not that much of a board-sport person, I enjoyed watchting the guys doing it which was fun too.
Accommodation for the next two nights was Coodlie Park, where the owner of the Company of Nullarbor Traveller is located. We got a BBQ dinner and some Marshmellows for the Campfire where we also met the other group coming from Perth, to which we will swap in the upcoming days as some people are heading to Perth with our guide.
But before the swap, we had another day with our first group where we had a date with the sealions in Juriens Bay. On a boat we were first approaching to swim with wild dolphins and soon they showed up - unfortunately not willing to move to an area where it would have been save for us for snorkelling, therefore we went to see the sealions and it was much fun snorkelling with these cute animals, just the water was freezing cold! But as you never know when you'll get a second chance to swim and snorkel with wild sealions, I tried to ignore the cold as much as possible and it was definitively worth it.
The other group who had the same program in the afternoon, was more lucky - they could swim with dolphins and sealions and even rescued a babydolphin who got to the beach in the morning. Anyways, it was much fun and i can definitively recommend it. Only downside was we were quite a lot of people on the boat and well, some of them just didn't behave that it was enjoyable all the time but I reckon this is something out of my control :).
After lunch it was time for a surflesson - for the others :). As I said I am not that much of a board-sport person and as I tried it before without having that much fun, I decided to leave it this time and to relax at the beach instead which I really needed after so much of travelling and exlporing.
Afterwards we swapped buses, said goodbye to some people to the first group and headed back to Coodlie Park, the campsite with very special showers and a special compostable toilet - you have to experience it, hard to describe in words :). Next morning was not thaaat interesting for us as sandboarding was on the agenda again as the new group hasn't done it so far, but we went for a walk along the coastline and had time to relax with a wonderful beachview.
On the road again, we quickly stopped at Port Lincoln ( the seafood capital of Australia - too bad we didn't have time to experience it) where I got equipped with Seasickness Tablets for the next day and in the afternoon we arrived at the Campsite for the next two nights, Mikkira Station. It is a very special place as around 300 wild koalas are living there and during summer months the campsite is not accessible for the public. This made it very special to be surrounded by soo many cuties. But have you ever heard the noise of koala? This sounds much more like a donkey or pig or whatever - build your own opinion in the video :)
As it was a very windy night we were sleeping under the shelter where the kitchen was located. Jenny, another girl from the tour and I had to get up earlier than the others as we booked a very special day trip while the others went on a hike... The waking up started special as I thought a koala was jumping on me :) Later the day it turned out that it was Elly trying to waking me up that I don't miss my special date of the day.
Mel, our tourguide drove us to Port Lincoln again (about a 30 minutes drive from the campsite) where we got welcomed by the Crew of Calypso Charter. Today was the day where we were supposed to meet the great white shark! Uuuh exciting times! I booked this optional trip back in Switzerland and just some weeks before we got informed that November was not a good month, with almost no sharkseeing. This is the risk you take when you go on a tour in nature, where you can't control nature and neither weather. However the week before we went on the boat, the sharks seemed to be back - yay! So fingers crossed that we'll see some too!
Soon we were on the boat, which was very comfy and even better, it was not fully booked, we were 18 guests on the boat only. The boatride took us around 3 hours and we were in the middle of the rough sea- thanks god for our seasickness tablets, more than 2/3 of the guests got seasick but we didn't yeahi!.
We have signed up for group 2 and soon when we got there the first shark showed up! woow. So it was time for group 1 to get into the cage and after around 30 minutes it was ours. After first difficulties with my buoyancy (seems I could have needed more weightbelts) and getting used to the icecold water, I found my place in the cage, breathed through a regulator which was connected to the boat and kept waiting for the great white. And there it was - so hard to describe it. By then I have not been that much shark addicted but the elegance and general appearence of the shark impressed me deeply. Luckily, we have even seen another shark and as the boat was not full, we could spend more time in the water than normal. But I also have to say, compared to the time we have seen the sharks with the time we have spent in the cage it was about 1 hour in the cage and 2 minutes of sharks but definitively worth and another once-in-a-lifetime-experience I am very thankful for.
Back on the boat I could even nap (some other got seasick again) and we spent our last night in the koala camp before heading into direction of Adelaide the next day.
First stop on the way was in Port Augusta to see the Waldata information centre where we learned more about the history of the area and the different explorer - it was well and interactively designed and if you ever going to stop there, it's worth a visit. Before our 3 hours bus ride ahead of us, we did a lovely loop walk and just 10 minutes before Adelaide we got a bus breakdown. Shit! But Mel the legend fixed it sooner than expected that we made it back to the YHA in Adelaide, where we did some laundry and had an enjoyable Pizzas at Melt with Jenny who joined me on the shark experience.
Once again we have seen amazing places, but compared with other tours it has not been my favorite because of different reasons:
the group-dynamic was pretty bad unfortunately and to my opinion it is the time spending with great company which is creating unforgettable memories. However, there were on both buses 2-3 cool people I am still in contact with today + I could count anytime to Elly, which was perfect + I can't complain about our tourguides, they were really cool and fun.
I was expecting more hikes compared to the first tour, but that is probably my bad.
The campsites were sometimes not that nicely maintained and more limited in regards of facilities than on the previous tours (e.g. cold shower, only 1 female toilet only for the entire campsite etc...
Nevertheless, I will keep some great memories from that tour as well, especially the animal experiences like camping with koalas, swimming with sealions and cagediving with the great white on that trip are unforgettable and I am very thankful for that.
The day after we were hitting the road again, to be more specifically, the Great Ocean Road.....