YAY, holidays again. Asia again :)
But before I start to share my memories with my latest adventure, I have to mention the evening before taking off too. When heading to other continents, I usually like to eat something typical Swiss either before leaving or just when coming back. This time I had the opportunity to enjoy a lovely evening at one of my favourite places in Baden: The Triebguet offers outdoor Fondue in September as long as the weather is good. This was amazing and I can recommend it to everyone :)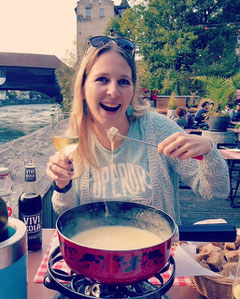 After savouring the fondue and working for another day, I headed in the evening to the airport to meet there my friend Jolanda whom I know from my previous further education (HFW). Before baggage drop off, we played the game "seat poker" and it took us a while to choose the seats in the airpline. After the Schlummi and entering the Swiss Boeing 777 - it turned out that I choose the perfect seat as the entire row was empty. Whooop! This was probably the reason that this time I watched only one movie (The circle - interesting story) and slept then more or less the rest of the flight. Honestly I can't remember when I arrived that relaxed after a long flight.
First stop of the adventure was Singapore and an absolutely must when arriving at Chiangi Airport is to go to the foot-massage-machines for activating my feet again - not knowing that on the way back we would have a looot of time for it, but this is another story :)
Arriving in Singapore, we took a taxi to our hotel where we chose the famous Marina Bay Sands Hotel with the board looking pool on the top. We were eager to check out the Infinity Pool on the rooftop and you only get access when you book a room there. This is what we have done and once we arrived in this monster complex, we had to face some elevator challenges but after a few times we figured out how it is working :)
Obviously, first stop was the pool but as the evening just started and we got hungry, we had a stroll to the Gardens by the bay and found out that we can get some small bites at one of the trees which we actually did :). The location is called Supertree by Indochine and just below the roof there is a restaurant. To get up, you have to pay 20 SGD and get a drink for free. We didn't go to the restaruant tough as you have to consume for at least 80 SGD. However on the top they do serve some small bites and nice drinks. It's not a huge place but it was not crowded at all and the view over the bay and Singapore was amazing. We enjoyed cool drinks as well as great snacks such as Papaya Salad and French Fries with Truffels. How cool's that? Never had the idea to add truffles and Parmesan Cheese over Fries but it was very delicious.
Not a bad start into our holidays I would say :) 
Next day, we thought we take a little walk where we might find a nice café for a late breakfast / early lunch. Honestly I think we were the only one coming up with the great idea walking some kilometeres with that humidity you're facing in Singapore. Anyways we did it and somewhen we were actually pretty close to China Town. We crossed a lovely street where the buildings were inviting you to have a closer look at this area and we stopped finally at my aweseome cafe for a yummi granola. The café is very cool and I can imagine that lunch and dinners will be great there too. If I will make it to Singapore again, I will defintively go back there. 
Heading to China Town, we had a new target: Getting to a HopOnHopOff Bus station to drive around the City (yes we had enough of walking by lunch time :)). Well what can I say - this challenge drove us mad almost. We asked local people, we asked in hotels, everyone pointed us in another direction. From the heat and the humidtiy, my brain stopped working (this won't be the last time on this holidays) but thanks to Jolanda's Map readings, we made it somehow to a station where we jumped in then, plugged in the earphones and listened to the voice telling some information about Singapore.
We were sitting there for a while and decided to HopOff at the Botanical Garden where we had a relaxing walk (it's much more convenient having trees spending some shades) and were moving then to the Orchid Garden - beautiful! Hungry again, we stopped at the Halia Restaurant in the Garden. Another lovely place, great lemonades and yummi food I can recommend when you're there. 
 Heading back to Marina, we went up to the Skypark which is free for hotel guests and gives you another great view over Singapore. As the Formula1 race just took place recently, we could see the route from the top. Of course we had to enjoy a swim in the pool, have some drinks just to move afterwards to the whirlpool to relax. In the evening we walked in direction of Clarke Quai next to the river. On the way we could see the laser and watershow at the bay - impressive what's going on there day by day - crazy! At the Quai there are many many restaurants, possibilities to eat japanese Wagyu beef and other delicious food. We ended up in a place I don't remember the name. Therefore you can imagine - the food was ok, but not something worth to write about the chicken satay I had. 
Going back to our hotel on top, we went to to the bar Cé La Vi for some last cocktails from Marina Bay. The bar is open for the public too and I can recommend it for a relaxed evening with great drinks.
The day has come to move on and flying to Bali. Good timing as it was a rainy day. Before heading to the airport, we had a walk and went to RealFood to meet a friend of Jolanda who is currently working for a Swiss Bank in Singapore. We had a yummi lunch there (I love dumplings, RealFood is offering a lot of great vegetarian dishes) and it was interesting to get an insight about living in Singapore from a foreigner's view with all the up-and downsides.
The flight to Bali was easy and in the late evening we arrived on the island. Prepared for any possible evacuation in case of an eruption of the Bali Volcano (Mt. Agung is pretty active at the moment) we have received a letter from Singapore Airlines what to do in case the volcano erupts. Luckily, we had no reason to check the information again during our journey. Arriving there we were looking for our pick up which I organized previously with the accommodation. This was not so easy as there are many people waiting for someone. We went to the desk where they called out the accommodation name but nobody showed up. We then realized that nobody will come but we had contact with the accommodation and we agreed on taking a taxi to Ubud. And then traffic. I guess everyone been in Bali before know what I am talking about. It took us almost 2 hours for getting to our home for the next days.
Luckily we made it and we got a warm welcome from the owner of the Alam Dania Cottages, Punia. He explained everything about the room, how to order breakfast and served a refreshing lemon-welcome-drink.
We took the opportunity to start with a relaxed day afterwards, sleeping in, having nice breakfast, enjoying the lovely pool and booked a massage with peeling. Re-energized we went down to town of Ubud where we walked in direction Monkey Forest (about a 10 minutes walk from the center or how our driver used to say: 10 minutes for men, 2 hours for women as there are many shops on the way :)) I am telling you we were so afraid of the monkeys, haha. Heard that people got bitten we really avoided any eye contact and were almost unable to do a selfie where you can see joy in our faces and no fear! It was still fun tough but we were both happy that we could escape safely from the forest. After this load of adrenaline, I had to try some traditional balinese crépes called Dadar Gulung at the restaurant icip-icp. They looked very green because of the leaf which is in there with coconut and palm sugar and tasted really good.
As we wanted to see a traditional dance or ceremony we decided to go in the evening to a show where we have seen the Kecac fire and kind of a trance dance. It was fun to see and especially hear it to get a small insight into the balinese tradition. When the show was over, I tried a traditional Rendang dinner at the Waroeng Bernadette at Toko Madu before we took the shuttle back to our cottage. Our cottages were a bit out of town but the accommodation organized regular free shuttle-services so we had not any problem to get in town when we had to.
For the next day we booked a driver directly from the accommodation which was much more affordable than negotiating in town and we had much fun. First stop in the morning were the rice terrace near Ubud. Beautiful scenery, the green is so intense especially when the sun comes out. Really enjoyed the walk through the rice fields and can highly recommend it. Afterwards we were heading to a water temple, called Tirtaempul. It was touching seeing the ceremonies and how people go there to wash themselves for healing and to feel the special spirit there. Our driver was waiting for us for getting us to the next stop. Before going to Bali another friend told me that you can get a very special coffee in Bali where the beans are collected basically from ummm Cat's shit - let's face it - it is how it is. People know that I usually don't drink any coffee but if so, it must be a special one and I had it on my list to get a cup.  And so he took us to a coffee farm where we could try the famous Kopi Luwak.
We've visited the Farm Satria which was in a wonderful setup in the middle of the "Jungle", we could see how Papayas, Pineapple, and all the exotic fruits are naturally growing there and how the coffee is set up. I learned about male beans and female beans and the guy said the male beans are the better ones as they have a more intense taste. I can't judge that :) Now the story with the cats. I call them gourmets as he said that the cats have a very sensitive taste and therefore only pick the best of the best of the beans in the night (during day they are sleeping). When they eat it, they kind of ferment in the cat's body before they are shitting it out again. The people on the farm are then grabbing the shit of the cats, where the beans are in, wash them and then also roast it. For one cup of coffee the cat has already to eat a lot of beans and bring them out again, and as there is hard handwork in the production process, you can imagine why the coffee is so pricey. In Bali it's still affordable compared to other countries and this is the secret of the most expensive coffee in the world.
Beside coffee we could taste a lot of teas too and they were so tasty! I couldn't resist and buy some for drinking back home. 
After this very cool coffee experience we headed furter to another temple, called Gunung Kawi. Personally, I didn't find it that special and we were forced by women to buy a belt for the Sarong which they said was mandatory for this temple. Of course it was not and yes, you can call me stupid tourist. Honestly as I mentioned before it was so humid and hot and sweaty, my brain just stopped working (again!) and I was too lazy to negotiate about it. Anyways, time for lunch at the petanu river restaurant. The afterlunch program was then to visit a gallery where I almost bought a painting. They are so nice but I couldn't imagine where to put it so we went out without buying anything. We then also went to a silver jewelry production which was lovely. I couldn't resist and bargain there for two pairs of earrings for having a nice souvenir I can use often plus it reminds me to the great time on the island. Oh I almost forgot we did visit a waterfall as well but we were not that much imperessed that we didn't get much closer and some teenie-wannabe-gangster asked for selfies with the whities :). I really enjoyed the day and the fun talks and discussions with our driver. It gave us another perspective how life must be for the locals and a better understanding of the balinese culture with the many ceremonies. 
For the last dinner in Ubud we went to "The Watercress" which has a lovely set up and delicious food.
Early morning we got picked-up then for the fastboat transfer to Gili Trawangan. If you will ever make it to lovely Ubud I can really recommend the Dalam Ania Cottages which was a fantastic accommodation with lovely people!
Next recommendation: If you ever require a fast boat to get to the Gilis or Lombok, we chose, thanks to Mila's recommendation Giligetaway. It costs more than other boat transfers but it's definitively worth. Great service, you even get seasickness pills (we took them just to be safe), water, sunscreen on board as well as refreshment towels and pick up and drop off in a normal car.
The boatride took us around 2 hours until we arrived at Gili Trawangan. I was very curious how it will be, I heard a lot that this island is known as Gili Tralala, people going there only for party etc. I can tell you, this was not the case. Yes, it was maybe not high season anymore but I think everyone has great options what to do there. If you want to have parties, you can do this, if you want to have a calmer stay this is perfectly possible as well.
So we arrived at the island where no motor-vehicles are allowed. So we took a horse taxi which brought us to the Exile, our stay for the next days which is directly located at the beach where you get the best views for sunset, about 15 minutes away from the harbour and the center.
First, I was a bit disappointed as the staff was not that open and friendly we experienced in Ubud and also the room was not that clean and especially I was missing the lovely details where you can see people care about rooms and accommodations. Don't get me wrong, the accommodation was ok in regards of what we have paid, it has just much more a hostel touch which I was not prepared for it, but after the first 30 minutes and a Bami Goreng the world looked much better :) First day on the island we did not that much, we walked to the harbour, and decided then to take another way across the island back. I have to say here it was disturbing to see on one hand at the center all the signs about keeping the island green and clean but when you go one step beside, you can see all the rubbish lying there and nobody cares. I do really hope that somewhen the islands and Indonesia in general get the needed sources and equipment in the near future to be able to actively doing something against it. 
Back at the exile we had a shower and enjoyed then the first wonderful sunset and some drinks at the beach.  WOW, they can really do sunsets here. Every evening Mother Nature painted something differently on the sky and we never got tired of this view!The cool thing at the exile is that as soon as the sun is going down, the staff takes out their drums and start a bonfire - the atmosphere is just fantastic. We didn't rent a bike on the first day, therefore we had to walk and decided to stop at "the pearls" for a very delicous dinner. In general the food was always so fresh and good and cheap, incredible!
With our bikes on the next day, we explored the islands around and were looking for a beach stop. First one was a fail as I got attacked by red ants and I had to run away :). Closer to the harbour we decided then to rent sunbeds and parasols to protect ourselve from the very very strong sun and to chill at the beach and enjoying fantastic smoothies at the Banyan Tree Café - very lovely café where we haven't been only one time. Obviously we had our mandatory appoinment from now on in the evenings for watching the wonderful sunsets. Afterwards we had a ride in the dark with our bikes into the center where we went for dinner at Fat Cats. I had there the first time in my life a Tuna poke bowl. Oh my god this was one of the best dinner I had! There was just a bowl first filled with sushi rice and then on top such yammi tuna with spices and edamame and avocado and don't ask me what. It really made me wanting this bowl every day from then on again :) Before heading back "home", we stopped at hte Sama Sama Reggae Bar. A really cool place as they always have live music and we enjoyed some beers and drinks before driving back home on our bikes (the cocktail card there is fun too). 
The next day we went up and in the center as we wanted to book a snorkeling trip. You have to know the offers are just too much and you don't know where to go but we decided that we want to go with an organization where not that many people (ususally between 40 + 100) are on a boat but rather 20. So we went to the guys we talked the evening before but unfortunately the were booked out for that day. Not a problem, we fixed it for the day after. As he didn't have a pen to prove our pre-payment, he decided we just do a  picture we can show the next day for checkin :).
Fun fact that just next to the snorkeling guys there was the SUP guy offering Fitness Class on a Stand Up Paddle board. As we talked to this guy before we decided spontaniously to book this for 9 am without having any breakfast. 2 girls from Korea joined us too and soon we were on the board. He said then something like: I do an easy session as you are on holidays. It looked like we don't have a common understanding of "easy" :) We did some squads, planks, sit-ups and don't ask me all these exercises which I find hard to do at the gym already. But on the board, shaking by the waves it was even more difficult. Anyways it was fun but the sun was burning at 9 am already that hard that we had to jump into the water from times to times. What was really cool is that we could paddle around and seaturtles accompanied us. As long as there is high tide they can be seen very close to the island and it was a great experience paddling in the clearblue water and seeing this beautiful animals.
After one hour, the fun was over already and I was staaarving. As I mentioned the Fats café before where I had this fantastic tuna poke bowl and we figured out this was so close that we spontaniously decided to have breakfast there too. Why changing a place where you get great food? So we got there, another fantastic breakfast option. Ever heard of Smoothie Bowls? I could really get addicted to it and I am missing that now already. Of course it is possible to do this back home but it's not the same without having these exotic fruits as they are, fresh from the tree available.
So what can you do when you don't go snorkeling? Right, another lazy beach day. After the work out this was the perfect thing. And not to forget, we are on holidays and relaxation is important! What comes after the lazy beachday? Right, sunset at the Exile - you can never get enough of it! But I have to say it started pouring on the way back home and as it was cloudy there was not much of a sunset for one day. You can't always win :)
For dinner we decided to go to a place which was set up a bit more luxurious and calm, we went to santis lounge which is also a hotel. The food was great there too as well as the passionfruit mojito. :)
Next day was snorkeling day! yay! So after my mandatory banana pancake in the morning, we went to the place for boarding. In total we made I think four snorkelling stops. One came pretty soon after we started. I didn't see that many corals and first I had some issues with my mask but then I started and somehow forgot the time as almost everyone was on the boat back already. Luckily I forgot about the time because then it just happened. I've seen something far away slowly moving and first I thought it could be a Mantaray. But coming closer  I just realized that it has been a huge sea turtle just getting up for getting some air. It was magic swimming with her and luckily I had my underwater camera with me to take some lovely pictures.
Back on the boat I was exhausted as the waves were quite strong but never mind - it was worth tough. Next stop was cool as well as I have never seen this before. Just in front of Gili Meno, another island, there are some underwater sculptures you can see. After 10 minutes I was tired from the turtle swim before and went back to the boat. They told me that there are many more statues under water but I didn't check out any further than the one.
We quickly stopped at Meno as well, known as a Honeymooner Island just to see the salt lake of the island and heading back. It was low tide so we didn't have much time to stop there as we had to be sure to make the way out again by boat.
3rd stop was called the turtle point where the crew promised to see turtles. Yes I have seen there too but as there were all the people of the boat in the water, it was not that much of an experience for me anymore as before but of course nice too. On the last stop there were just fish and the boat spreaded some bread to get more fish around :) We stopped at Gili Air for a late lunch before heading back to Gili T. Thank you Jolanda for this very cool Birthday present, I enjoyed the snorkelling trip to the fullest! 
For again and the last time: sunset :) and then we went just to a dinner place next to it at the beach: Casa Vintage Beach. Delicious jamaican food and very friendly people where we got entertained by the indonesian Justin Bieber (that's how he introduced himself, he did not sing tough but did some beatboxing). Really fun talking with the guy there. 
Next morning we had to go back and we were waiting for more than 30 minutes for the horse taxi. The island seems incredibly busy when the boats are arriving and leaving. Anyways one stopped (not the one we ordered) and we made it on time to the ferry, again to the top. The ride back to Bali was a bit less relaxing as we had to first stop in Lombok as well just for some controls and then the sea was a bit rougher that we got from time to time a salty shower. But we made it safely back to Bali where we got dropped off in Seminyak, in the Dash Hotel.
We were super exhausted from the trip so we first ate something and afterwards we just discovered that the hotel has a rooftop bar with a whirlpool and that's where we decided to stay until dinner for what we have chosen a very fancy place the bambu. The restaurant is set up like in Venice - surrounded by water and Kois  (less a Venice thing) and the food was very delicious but also special. I had a yumm tuna steak and jolanda got a Vegi Platter which was a bit too special for her taste. Anyway very lovely, romantic environment with friendly staff!
We also signed up for another massage at our hotel which was a fabulous idea. After breakfast I enjoyed a relaxing hour before we had to checkout and waiting for Selina, our Friend who did the further education with us and is currently on a world trip. Was great seeing her and listening to her stories and experience she made on her travels.
Then it was time already to leave and heading to the airport. All went well, apart from the flight from Singapore to Zurich. There was a delay of 6 hours because of an issue with the aircraft which led to 1 hour feetmassage, sleeping on the ground at the cinema and somewhen finally made it back home. In addition I learned that Butterflies sleep at night as I couldn't see any at the airport in the early hours :(.
Thank you Indonesia and Singapore for an amazing time - I enjoyed every second.