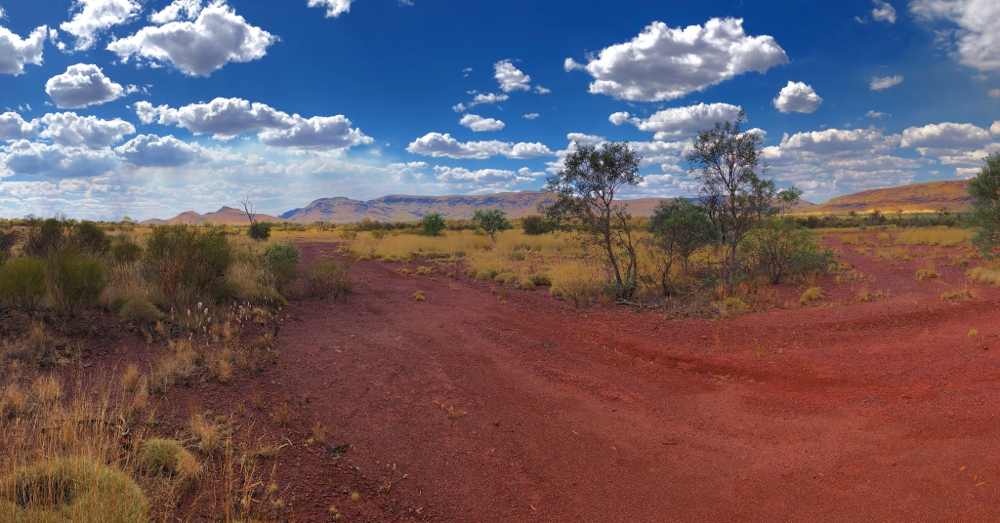 Here we were again - on tour. Just one day after we returned from our first trip we jumped on the bus of Australian Adventure Tours for the next 10 days which led us to Broome. We got on a different bus, this time with 12 people in total only, the bus was more comfortable too. We started the first day with 600 km drive only and although first not ready to socialize again after we had to leave a cool group, it soon turned out that the people on this tour are very cool too. We had Australian (2 ladies), English (2 guys, one girl) one of it really crazy and fun - I guess we wouldn't have laughed that much without you Eddie :), Swiss (6 girls including us) and one girl from Germany on tour led by an Aussie tourguide we had some difficulties to understand him from time to time :).
As I have done Perth-Exmouth 10 years back, I have seen some places of the first days of this tour before, however, the landscape is still amazing 10 years later and so I was amazed by our first real stop again (breakfast at Lancelin doesn't count as it was bad :)): The Pinaccles - a nationalpark with rockformations in the desert. With a clear blue sky and sun shining we got some cool pictures before we had our first tour lunch - guess what - yay sandwiches again. As we couldn't do any sandboarding becuase of some showers before which kept the sand wet, we went to Port Gregory instead to see the Pink Lake. Not much of expectations as the tour guide said he has never seen it pink, he was pretty surprised tough as well as we could see it pretty pink without any photoshop :)
Later in the evening we checked in at a YHA near Kalbarri Nationalpark, had some Chicken Curry Dinner, killed a wine and had a silent night. Kalbarri Nationalpark was as well our next target after breakfast.
We walked to a first lookout point, did the river walk before it was time for some adrenaline as we did abseiling as well. The guide here was super crazy and fun which somehow made it that all of us went down twice :) Can really recommend it when you're there to do it.  Another must see when in Kalbarri Nationalpark, is the loop to the Nature Window. Since I've been there 10 years ago it remained my background picture on my private notebook - you probably see in the pictures (when you scroll down after reading my stories) why :) I absolutely love it.
On the way further we stopped at Hemlin Bay to see the famous stromalites and had a walk along shell beach - unfortunately it was still too cold for a swim. Final destination for the day was Monkey Mia, where we met Rebecca from the last trip who was there with her son to see the dolphins next day which was our target as well. Monkey Mia is famous for the so-called Dolphin Experience - there are wild dolphins around which get feeded every morning if they show up at the beach.
After our BBQ dinner we went to the beach at night and could see a cool nature wonder, glowing planktons in the water at the beach and soon got to bed for being ready early morning. People were queing already and the clever pelican knew as well that there is some fish feeding and soon some dolphins showed up. I have to say 10 years back I have seen a lot more dolphins and to me the place is not thaat special. If you're anyway on the way upNorth, it's cool to stop there but making the way to Monkey Mia from Perth only for the dolphins and then back to Perth - I don't think this is worth honestly. But I was lucky and got picked by a volunteer and could therefore feed one fish to a dolphin. Secret tip if you're ever there: Normally there is more than 1 feeding and there are many people watching the first. If you just wait there and spend more time, there will be probably more - if you remain at your place and don't beg to get the opportunity for feeding the dolphin,  your chances are high to get chosen :)
As we spent the morning in Monkey Mia we did not much more than driving to Coral Bay, for a windy sunset session at the beach. Some brave one went into the water, I was not one of them :).
Next day another highlight was awaiting us. We had the option to book a snokel trip where you get the chance to swim with Mantas. All of our group joined which was even more fun then too. As the weather was - in regards of winds - not too good the company offered a half day trip instead of a full day which was fine for us. Luckily we got some wet suits as the water was frrreeezzzzing but soon we were out in an area with lots of corals - we have even seen a sea turtle <3. But beside the turtle I have seen more colorful reefs and more fish at other spots around the globe, nonetheless it was a good first part of the trip as the water was incredible with different shades of crystalclear blue! The second part was even more amazing. A plane in front of the boat was spotting the big manta rays and gave information, when we could leave the boat to see them. The water sometimes was not that clear anymore, probably because they were whirling the sand up but it was absolutely amazing to see these giants in the water. There were somehow just too many people per group in the water which was a bit blocking sometimes to see the underwaterwold, but overall, a beautiful 1/2 trip and thanks to a professional photographer who joined our snorkelling tour we could take advantage of having even better pictures for showing back home :).
For our next night we were heading to a campsite next to Exmouth, slept in tents and spent the morning at Turquoise Bay for a really amazing snorkelling with so many corals, even more fish and the beach was just whitesand, crystalclear (and cold, no wetsuit) water and many many different fish and the best thing - no people apart from us - this is why I love the Westcoast of this country so much. So many unspoilt, beautiful nature and no people around destroying this paradise on earth.
After a Chickenwing lunch it was time to go to Exmouth since we had to re-stock our bus with food for the next days and back at campsite we had a lazy poolsession, BBQ dinner afterwards with a lovely campfire and grilled marshmellows :)
Next day we had to get up early for a day of driving basically. We stopped quickly in Prince Town which is famous for its mining industry before we checked in at Karijini Nationalpark - at the Eco Retreat Campsite. I have to say the days in Karijini were definitively a highlight of the entire stay in Australia. 
The next day was covered with 3 hikes around the gorges and were really cool:
Joffre Gorge (unfortunately no water down there, we were in this transformation phase where it was supposed to get the wet season in, however there was no rain and lots of bushfires around instead)

Hancock Gorge (one of my favorite, it included climbing, walking and swimming)
Handrail Pool, Weano Gorge (fun too as you could combine swimming and hiking and escaping the heat of around 40C above the Gorges
We have done these 3 on the first day, which are normally planned on the second as they usually guarantee the most fun. But as we didn't know how the situation of the bushfire will turn out, it would have been a pity seeing the "closed" sign on the second day and to be safe, we made those on the first morning.
The afternoon we relaxed at the campsite before a fish dinner including Tiramisu - you see, camp food is not that bad at all :)
On the next morning, we did another hike where you didn't have to climb and swim at the same time, but the landscape was absolutely beautiful too and it kept us refreshed during the heat. We stopped first at 
Fortescue Falls - a cool and refreshing swim
and walked from there on to Fern Pools which was another amazing stop for swim where we had lunch and could even meet a rescued joey in a bag.
Going the steps back to the bus we were heading back to the camp, enjoyed a lovely sunset and had dinner without knowing the plans for the next day. Reason: Bushfire - and the road was still closed for the 3rd day. If we could not pass that street, the worst case scenario would be going back to Perth - after we have made 4400 km up here.
But luckily, we got the relieving message in the next morning, street is open again and nothing is going to stop us! So we drove to Port Headland but something did stop us. The police - saying the road was closed because of a smaller bushfire. We have to be on standby, might be that the road will open in some hours again.
Thanks god there is a pub in Port Headland where we were waiting, and waiting, and waiting. Even some busfhire-dance didn't help, the road remained still closed. Our tourguide had to make a decidison and after checking with his boss he decided that we'll check in at a hotel in Port Headland and try our luck the next day. 5 mintues after he paid and checked in the road re-opened - Ooops. Well we were not complaining having a nice room, aircondition, contintental breakfast in the morning, a pool and the best - we could observe a sea turtle hatching at the beach and moving back to the sea, it was such a magic moment! You won't see any pictures of that as we didn't wanted to disturb her during her work.
And then, finally, the road was open again, we passed burnt fields, had to drive more than initially planned (iniitial plan was to sleep at a cattle station half way to Broome), it was freaking hot even in the bus with A/C but we made it to Broome yay! We checked in at Beaches of Broome, a nice hostel located close to Cable Beach and had a lovely dinner with the Group at Zanders (food was great, service so/so).
The next day we spent first some time at the beach to relax and met then the group for a yum lunch and beer tasting at Matsos Brewery, a cool place you shouldn't miss out when you're in Broome. In the afternoon we were supposed to see a presentation of a pearlfarm - Broom is famous for its pearlfarms and pearls but it was closed for public on that day and we did some shopping before it was time for the famous camel ride at Cable Beach - something you do once probably when in Broome :)
That was our second trip in the west - the next day we were heading to Perth to spend some days with my Hostmum Mary, where I stayed as well 10 years back in Bicton, Fremantle. 
After I travelled now the South-Western and North Western part of Australia and seeing most of the east cost 10 years back, I can definitively say West is Best! But on the other hand it's not fair to compare, as every place is special, but Westernaustralia stole my heart definitively <3 and I look forward to spending our last days of WA in Fremantle!