Leaving Hongkong, our first flight took us to Cebu. Waiting for our luggage, Flo couldn't believe that his backpack arrived first. Such a highlight has to be mentioned in the blog of course :).
As for now Cebu was only a quick stop and we had to get up the next day at 4 am to catch our flight to Coron, we just stayed in the Waterfront Hotel right at the airport where we enjoyed a relaxing pool afternoon and later a very delicious korean dinner at Cookpub. You can either take a taxi there (which normal people do), or you can walk, around 20 minutes from waterfront (which we did). The food was very delicious, super nice service and we just found out later that it got rated on Tripadvisor as No. 1 on the entire island.

Very early morning (4 am!) we woke up to get on the propeller-driven aeroplane to Coron. Some things to know: As soon as you get on a propeller-driven aeroplane, the rules in regards of max. luggage weight doesn't apply and you have to pay additionally for each kg over the the limit of 10 or 12 kg. Some of us had to pay a bit more than others but who cares :). Soon we were ready for boarding but somehow the boys got lost. We were wondering where they were as they got called out already. Reason: If you ever take a domestic flight from Cebu, don't go to the first Café you see in the area where you get food and drinks. The service is so incredibly slow that they almost missed the flight :) :)
Happily we landed all united very early morning in Busuanga, Coron where we got awaited by a transfer bus already who took us to our hotel for the next days, the funny lion. We enjoyed a poolday until our rooms got ready and took then a tricycle to town where we booked our private snorkeling and boat trip for the next day. Heading back we enjoyed a wonderful happyhour sunset session at the jacuzzi with snacks and we finally got our first massage - yay!
The next day we faced an unlovely surprise - it was raining.. Noooo :( Thinking positive, we went down to town as we booked the snorkelling trip. Somewhere in between the many people at the harbor we found Stanley, our Tour operator where we booked the trip yesterday and he informed us that he had no boat at the moment as the boatpeople cancelled as well and he is looking for another boat. We asked then to change the trip for the next day on which he agreed super easy and uncomplicated. Back in the hotel - what can you do when it is raining? Correct, booking another massage :). Later we went back in town for some snacks and mango margaritha before - another massage (yes I am addicted :)) and enjoyed some drinks (In the Philippines, you usually drink Tanduay (Rum) with Coke or Emperador which is kind of Brandy) in the Noname and Hangover Bar and prayed with the Tricylce (common way of transport, a motorbike with some space for more people, like the tuktuks in Thailand) driver to the Weather God for some sun the next day.
New day, new luck - sun was shining and we were looking forward to our boat trip where we chartered a boat only for us within total 5 stops. I highly recommend to book a private tour, it costs around 40.- CHF per person if I remember correctly and you are on your own, take your own pace, and if you let them organize the lunch you wont get disappointed, but will later come back to that point.
Our first stop was at an empty dreambeach waiting only for us, no other boats where there - what an amazing start! Next stop was a snorkeling spot at a sunken wreck called "shipwreck skeleton". You could see only the bone of the wreck and some fish swimming around - it just feels great to be back in the water surrounded by the underwaterworld. Other stops (with more people) were the Twin Lagoon, Barracuda Lake / Kawajangan and Outlookpoint, siete pecados (great snorkelling spot!) and we asked to stop at an additional beach to relax a bit. What was another truly highlight I have to mention was the lunch. The crew (a father, his son and a friend of him), prepard, chicken, fish, porkbelly, fruits, crabs and sooo many things for us - it was incredible. Additionally, our wish got heard and they even prepared Tortang Talong. One of our favourite which is basically asian eggplant with egg - recipe here :)
Having such a wonderful day we were wondering if it could get any better and to find out we booked another trip for the next day which was more about getting to stunning islands, not private this time and  were missing it already when we had to wait until everyone was on the boat etc. Anyways, 1st stop after around one hour on the boat was Bulog Island. And again, this water! Wow, I can't get enough of it. There is also a sandbar there but we haven't seen much of it because of high tide (we changed schedule of the islands visits as some had an overstay on the last island), but it was also possible to do some snorkelling where I met a small, white ray in the sands.
Next stop was Banana Island, also very lovely with a beautiful beach and where we had a yum lunch too. Excited about beautiful mother nature we were heading to the last island, Malcapuya. Wow, this island is just too stunning to be true! It has one of the most beautiful beaches I have ever seen. In addition we met lovely Filipinos who celebrated reunion and we got invited for some emperador and some suckling pig (Lechon) and had some yum Buko (Coconut) at the beach.
On our last evening in Coron, we enjoyed a delicious BBQ dinner at Funny Lion with some romantic music :).
Some words about the hotel: Would book it anytime again, very very friendly and attentive people, great service, pool, happy hour and rooms.
As it couldn't get any better (at least in Coron), we moved on - next destination: Camiguin.

Getting up early again (this time only at 4.45) we flew back over Cebu where fe first got welcomed by a singing and dancing macarena bus driver and where we had an overprized breakfast buffet at the Waterfront Hotel before we were heading further to Camiguin.
After a quick flight (30 minutes) in frontrow, I made the same experience as Flo's backpack - I left as the first person the plane :) and got welcomed by sunbrellas to carry for the short walk till the exit of the airport :). While waiting for our luggage, Mila became FB friend with the policeman at the airport who has organized very well the motorbikes we rented for the next days. He informed us that Camiguin sounds like Come again as people coming here are loving it!
We checked in at our accommodation for the next days, the Golden Sunset Beach Resort and headed then soon to White Beach - a Sandbank you reach with a 7 mins boatride. We were looking forward to relax there and seeing the sunset. It is a beautiful place, however we got ask to leave the sandbank again by 5.30 pm where the sun still had a way to go down but it was cool to be there anyways. 
The evening ended with a yum dinner at Casa Roca, where I had for the first time Mango Float - soooo delicious I am telling you! When we wanted to go back home, we realized that there were no tricycle anymore (they stop the service around 6 pm) but the lovely owner of the restaurant drove us back. From the next day on we would be more flexible too as we will get our motorbikes then.
New day, time for another first - at least for me :). After a 5 min quick instruction on how to ride the motorbike, we were on the road as we wanted to do some snorkelling at Mantique Island, an island 15 minutes by boat from Camiguin. When we arrived there, we got told that it is not possible to get on the island. Reason: Cruiseship chartered the island for this day exclusively! The next day it wouldn't be possible neither, since the quarter there had a Fiesta where it was not allowed to work and bring tourists to the island.
As we are all flexible, we changed schedule of the morning ferry we wanted to take two days later to the evening and postponed Mantigue for that morning. Luckily, the people recommended us a Plan B, where we could go snorkelling and seeing giant Clams at the Giant Clam Bay, Arrived there, we got instructions by our tour guides, no older than 10 years old, who informed us about the life of the clams and how they change sexes during time. We had a yum lunch (unicorn fish!) at the beach and booked then a guide who brought us to the Clams out there - very impressive!
After the snorkelling we drove further around the island and stopped at Beehive for a delicious dragonfruit drink and decided to do then another snorkelling for sunset around the sunken cemetry which sunk because of an Earthquake.
The water there was not as clear as on other stops and the sunrays were hitting the water which made it difficult to see anything under water but was still cool - as we have seen new animals like a seasnake :).
As we liked the food that much at Casa Roca, we went there again for dinner with the difference that we could drive home by ourselfes this time :).
The next days we headed to the Katibawasan Falls, was very refreshing swimming in non-salted water! Afterwards we were riding a steep uphill track to the Paradiso Restaurant where you have a wonderful outlook over the island and in addition we could savour very delicoius Pizza. We found out that the owner, lets call him Paolo as we don't know the name, is originally from Napoli and living in the Philippines since a long time. As we met a real italiano, we had to try the Tiramisu and I believe this is the best Tiramisu you can get in the Philippines. Veery delicious, don't remember when I had such a tasty one before. 
Not leaving without trying the house grappa, we made the way back down safely and Mila and I went for another very relaxing massage (it has been a while since the last one hasn't it?).
As we stayed in Golden Sunset Beach resort and I haven't mentioned a lot about the sunset - I can tell you we enjoyed observing the sun going down every day when the sky was painting new colours into the sky. Have a look at the pictures, it probably says it all :). For the last night in Camiguin we had an early dinner at a Spanish place and woke up early as we were heading finally to Mantigue Island (including our backpacks). On the way we got stopped by the police who wanted to check driving licenses etc. Once said we got the bikes from another police men we could proceed and went to Mantigue Island where you can walk within 15 minutes around the island.
We went there snorkelling again as, if you're lucky, are supposed to see other giant clams, turtles etc. We haven't seen any of these, but in return a Barracuda which was a bit scary too :). Beside the Barracude it has a great reef to meet lots and lots of colorful fish swimming around.
One of the highlight in Mantigue during our two hours stay there was the home made coco and mango icecream we bought by a local, living on the island. For 10 pesos (=0.20 CHF) per icecream we got some more than just 1 :)
Time had come to bring the motorbikes back to the airport where we had a small italian snack and took then the Ferry to Bohol, our island for the next couple of days.
We had a wonderful time in Camiguin and yes, I would definitively come again if I had the opportunity :).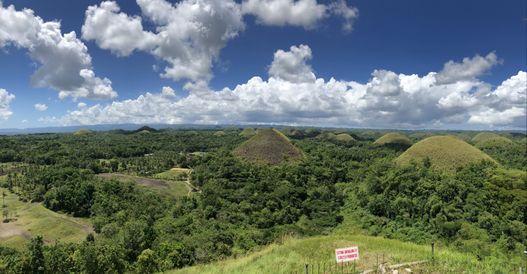 Once arrived at the Ferry Terminal in Bohol we were looking for transportation, preferrably a van as this is just more comfy. However we were discussing with a guy who really wanted to sell his tricycle ride. What has he done? Putting the price that high for the van we were not villing to pay it and selling the trip as a 30 minutes ride only. Fair enough, we can all deal with a 30 minutes tricycle ride but it turned out to an hour ride and the last part to the resort was... let's say slightly challenging but we made it :)
Checked-in at the J&R Resort in Anda, we got warmly welcomed by Ralf, the German owner of the resort and we had a nice dinner right there. We chose Anda to relax a bit inbetween the travels and this is what we have done there. Next day we enjoyed a lazy pool day and yes...massage again before we were heading into Anda Town in the evening. We had Apero at the Castle direclty at the beach and a lovely dinner at Coco Loco - a restaurant where coconut is playing a main role in their servings. Just next to Coco Loco there is the Hangover Bar where we went for a Schlummi and met the alligator fish which has bitten a dog into his nose. Crazy Fish :)
But there are not only crazy fish, Michi disappeard for a little while and once he returned we found out he went back to Coco Loco just to get Mila and myself a fancy Coco-Bra. :) 
The next morning we took advantage of being lazy again at the pool before we booked a snorkelling trip directly at the resort and we joined the boat  at the beach in front of J&R Resort where we had 2 stops. First one was at the turtle point. We had good guides who helped us seeing the turtle and taking great pictures of them. The biggest challenge we had was the strong current we had to swim against it, very glad we got fins. As I got excited about seeing so many turtles I realized only back on the boat how exhausting it was :). The second stop was easier, in the shallow water snorkelling around the reef -beautiful!
The good thing when the resort is owned by a german - you can get a refershing whitebeer - it tasted soo good :). For dinner we chose a restaurant in another resort (Casa Amihab) and decided to walk again (honestly, I don't think anyone is walking around on these islands beside us :)) and this time the decision was not that good as we got somehow lost in the jungle :). It was getting dark, Mosqituos surrounding us, some goats and cows appeared and the way we chose led only to a private house where nobody was there to help us out. So we went back and walked on the mainroad to the resort where we got told by the guard we have to wait at least for 1 hour as they were fully booked. Whaat? Are you kidding me?
Luckily he did somehow as we went there and could order directly and luckily they ordered a tricycle for the way back. 
The next day the Gspändlinis were splitting up as we had to check out at J&R and moved to Panglao on the other side of the island for another night. As Mila and Flo have done the sightseeing tour of the island already on their other trips to the Philippines, they went to Panglao directly and Michi and I were combining the transfer with the sightseeing tour in a van with a private driver who brought us first to the Chocoloate hills which is one of the landmarks of Bohol and you have to see when in Bohol. They look like big choco-kisses when turning brown and I read that they have been built thousands of years ago as they've been coral reefs that erupted from the sea. Was really cool to see this special landscape. We stayed there longer than expected as we somehow missed the information to call our driver when we're done and so he was waiting as we were :) Somewhen he came back and picked us up for the next stop, the Tarsier Sanctuary. The Tarsier is kind of a little monkey with biiiig eyes. Very cute creature! A quick stop at a road in the middle of the rainforest we headed further to the hanging bridges made of bamboo to cross a river. We couldn't wait for the next stop as we were supposed to go ziplining there yay. Getting there it all went quick until we realized that some korean tourist groups were all waiting to go before us. Some of them got scared right before of the start and they had to be removed from the zipline equipment again. then it started slightly to rain. Then it stopped and it was our turn :). In total you have two rides and we both took our cameras / iphone with us. I was mostly scared to loose the phone but I didn't and it was real fun, we enjoyed it a lot!
Last stop of the tour before heading to Panglao was the Resto Lake boat ride. You join basically a restaurant boat ride along the river and back while you can eat, there is some music on and the boat stops at places where people are dancing and singing for the audience. Was also nice to see it once, haven't to see this a second time though. 
Theen we finally arrived in Panglao, probably in the biggest resort, called Be Grand where we got our welcome drink. Later we headed to Alona Beach for a delicious Tuna Steak Dinner. Alona Beach is the place where it has some bars, restaurants and clubs as well which was a welcomed change after so many honeymoon spots :). As I felt pretty exhausted from the day I decided to leave after the first drinks, very glad I had an early night and felt like newborn the next day. And the boys, well they had an early morning :).
The wake up could have been nicer though as we faced in our bathroom a big, fat coackroach! Housekeeping was fighting for a while with the coackroach and Mila and I got up for a nice Breakfast Buffet and then a Standup Paddle Session of an hour at Alona Beach. Is there anything better than excercising in the crystalclear water?
Before heading to the Ferry Terminal we stopped at Shaka Cafe which was just sooo goood to have healthy food. I was missing the opportunity of ordering Smoothie Bowls which I discovered last year on my Bali Trip.
At the Ferry Terminal (if you want to go to Argao, make sure you go to the lite ferry terminal at a new square), we got another surprise. The ferry we wanted to take to get to Milas Father in Cebu, was already fully booked.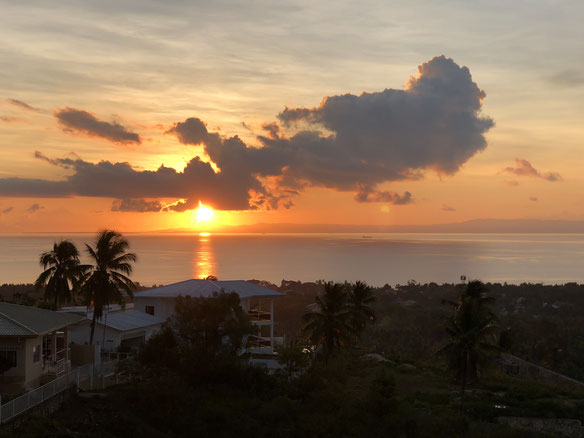 We decided then to take a Ferry to Cebu City and took then a taxi to Dalaguete. If we would have made it to the Ferry to Argao we would have had 3h on the Ferry and approx. 40 minutes drive, now we had 1.5h on the Ferry (superfast!) and 2.5 hours in the taxi so we didn't loose that much of time and had a lovely stop to get some bbq sticks on the street. We also found out that there were elections going on and therefore a lot of filipinos travelling to their town to vote. On the days where the votings are they do have a strict alcohol ban and it's not allowed to drink or sell any alcohol in public.
Tired but happy we arrived at the house of Milas father and his wife who live there and we stayed for two nights.
The next morning, Michis (aka. Schnorchelmichi) Birthday as well we borrowed the Car from Milas Father and Michi drove for around 1 hour to Oslob, the place where you can dive and snorkel with Whalesharks. The place is somehow controversial, some people think there are too many people and it is not a good way to keep the whalesharks at this place by feeding them from the boat. I didn't get the impression that they live there like in a cage and people going there can contribute a fair treatment by respecting the rules and the animals. I have to say it was very impressive seeing these creatures swimming around you and I am happy that I got the chance to do this.
Back in Dalaguete we enjoyed a lovely Birthday Cake organized by Jürg & Jonah - thanks again! and had a poolsession for the rest of the afternoon. Before heading to Dinner, we had a nice Apero with a special Snack Michi brought from Bohol - some fried Worms hihiii. They didn't tasted too bad. Birthday Dinner we had at Meili Beach Resort who was owned previously by a Swiss guy but sold the resort to a local one. The food was delicious but we had to wait about 1 hour for it.
Last Schlummi with Tanduay Coke and the next day time has come to say goodbye already :(. I am going to miss these wonderful places, the hospitality and friendliness of the people we met and the fantastic time I had with the Gspändlinis which has been probably not  highlighted enough in my diary. Oh and not forget the yum Mangoes and the sweetest Papaya ever! <3