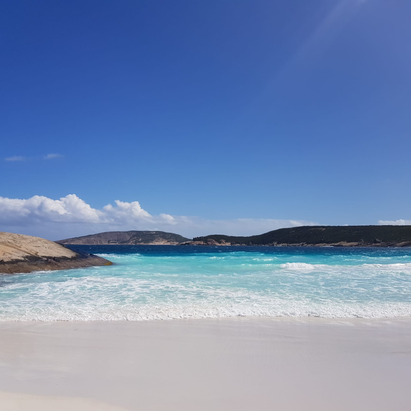 And there he was. The day I left Lombok and flew from Bali to Perth - a 3.5 hours flight - not too bad if you compare how long it would have taken if coming from Switzerland. 10 years later since I've been in Australia for the first time, I was getting excited for another visit.  When I did the first steps in the country I was surprised how easy it was to get through immigration, customs and all that stuff as I remembered last time when even dogs were checking my luggage. :) Exchanging the local simcard, leaving the Indonesian one at the shop I got an Optus Sim Card in return.
If you ever go to Australia I can recommend getting a local simcard as it makes life much more easier and you get anyways a huge data package with it. Telstra has the best coverage but costs more, I decided to go for Optus and I was offline at the very remote areas, but elsewhere it worked very well and I can say definitively better than Vodafone :).
By taxi I made my way to Perth YHA, our accommodation for the next 2 nights. After beeing used to lovely hotels in Indonesia it was a bit of a shock, but at leat I got a twin room and I had time to get my brain trained that this will be the kind of accommodation we will facing the next weeks. 
While waiting for my friend Eliane, who was coming from Switzerland and joining me on my Australian adventure, I turned on the TV - and another fun surprise - the same shows as 10 years back were still on and so I enjoyed watching an episode of Bondi Rescue before she arrived and we went to eat something before we had an early night.
Next morning, we headed to La Veen Café, which is a fantastic place for yum breakfast / brunch and good coffee or in my case Chai Latte ( I love Chai Latte and lucky me this is in Australia as common as normal coffee) before we were heading to Kings Park where you get a beautiful view over the city plus the botanical garden is located there as well. Just coming in spring (November) it was perfect to see so many flowers blooming in various colours - definitively a must do when in Perth. 
After having a stroll in town and a poke bowl we went back for packing. We didn't even had dinner as we were too tired to get out and our first Uber Eat order didn't work out as well but this all doesn't matter as we got excited for our first tour which started the next day....
Whoop, getting up at 6 am for the first tour with Nullarbor Traveller we were excited and curious what we could expect. We didn't read the email properly where it was written to be ready 15 minutes before and that's why we were the last in the bus which was pretty full with 19 other people (of a 20 max). Our guide Janner welcomed us and soon we were on the bus with "only" 800 km in front of us for the first day. Jip, you gotta love long drives when you decide to discover WA but it's a good place to get some sleep too :)
The first day itself was not that spectatular as we were driving a lot and where we stopped where places I have seen 10 years back too - the dog cemetery and the Waverock. Still impressive tough (the Rock not the cemetery) and of course I captured it with a better camera / phone than 10 years back. We did also spotted some first wildlife such as camels (yes there are a lot of wild camels out there, even tough not originally from Australia), Kangaroos and Pelicans. 
The campsite for tonight was at Fitzgerald Nationalpark where we had an early dinner and decided to get a tent as well as it was not sure if it will rain. It turned out that it was a good decision but as we left the window open the rain got into the tent - Ooppsi. However we somehow managed it to get some sleep before we got up at 5 am for the first hike which took us to the East Mount Barren. It was about 1 hour hiking up and the view from the top was breathtaking! 
After the hike, it was time for some bus ride again and we made our way to Esperance, quick Burger Lunch nearby the beach before we were heading to Cape le Grand Nationalpark where we decided to go for a hike from Hellfire Bay to the famous Lucky Bay where you can see, if you're lucky, some Kangaroos sunbathing at the beach. This hike was amazing too.  we had such stunning views to cristalclear and deep blue  and turqoise water and no people around! The hike included some climbing along the walls as well, but we made it and were happy arriving at the campsite. Only downside was - it was too cold and to windy to get a quick swim in the water. It seemed to be too cold for the kangaroos too as they didn't show up (yet).
After dinner it was time for another night - in the tent again. This time we didn't get any sleep at all as the wind was blowing that strong, I thought it will blow our tent away. Eliane tried to fix it several times with stone again but somehow we had no chance to get an eye closed. Only good thing was that we got up early anyway for another hike - this time we made it up to the Frenchman peak walk which was more challenging than the two before, but definitively worth too! Back to the Camp, the (Kanga)Roos showed up and we could observe the cuties before we had to say goodbye as it was a long drive to the next camp with some quick stops at Esperance and Twilight Bay.
Once arrived at campsite, we took the opportunity for a short, lovely wildflower walk where we spotted some kangaroos as well. During dinner (where we had kangaroo too and it was yum), we met people from Switzerland who are living since 10 years in perth. And then yes, it was again time for our swags to get some sleep. You think it couldn't go worse than the windy night before? Well... This night we didn't have any wind, but the temperature dropped down to 3C! Yes I am used to such temperatures back home but camping outside would be not my favorite place to sleep. Anyways, we got a place close to the fire which helped us to keep us warm at least for some hours. Already happy to get up early for a hike which helped to get warm again, we got up to Castlerock where a small climbing is required and again, we got rewarded by another superamazing view <3. At lunchtime we could enjoy a Chai Latte and wonderful view over the Middleton Beach at Albany before we were heading to the so called Gap and Natural Bridge Lookout Point and the Green Pools where we could stop for a swim or just relax around the cool rockformations of the Elephant Rock.
As the place around Green Pools was so cool we somehow forgot the time and were running late for our next stop, the Treetopwalk where we thought the topwalk (for which you have to pay for) was closed already. Thanks to supercool staff, we managed to get a free entrance - we just had to promise that we hurry up - and even made it to the second one  on the ground which was as cool as the one on top. 
Being late we made it to the campsite in the dark, passing a creepy dwarf / troll village, we had a pasta dinner, first night in swags under a sky full of stars and 7C degrees in the morning - what an improvement to the last days :) and when we woke up we got surrounded by so many kangaroos which was lovely to see.
Next day -  the first stop was at Diamond tree - you can climb up there around 50 meters, without any back-up and completely at your own risk. I tried out some first steps, but as another person was coming down and you can't really cross, I got down as well and didnt't gave it a second try as I preferred the next destination more:
Margaret River, where we got some tasting of Cheese (very good), Chocolate (not that good, as a Swiss you're expecting more), Wine (ok, there are probably better wineries), Whiskey and Gin on additional costs (didn't try), and Beer - which was a very cool and relaxed place I would go again if  I'll ever be back in Margaret River.
Last evening at campsite, it was warmer finally and we stayed up longer than usual. Played Game of Life together but it got a bit difficult as nobody remembered the rules properly ;) 
After that night, we woke up by an Earthquake (5.0) but some people thought sheeps running away caused the shaky waky :) After a short stop at the coastline we got an aboriginal experience with Josh at the Ngligli Cave which was very cool. Heading to Busselton for kunch we were walking along the famous jetty. Unfortunately we didn't have much more time but Busselton looks lovely, a place where I can imagine to go back!
Time has come to end the trip - we drove back to Perth and checked in again in the YHA.  I would not recommend the YHA in Perth again, when we checked in the toilet was not cleaned up, a complete mess. At least we got upgraded to antoher room but compared to other YHA's we stayed in during the trip, this was the worst and I guess for the money of a private / twin room you will get something for better value than that.
Anyways, we could do laundry and meet up with some buds from the group for a last dinner before we had to go to bed - new day - new tour - our adventure from Perth to Broome was calling and we were curious if the first amazing week can be beaten....